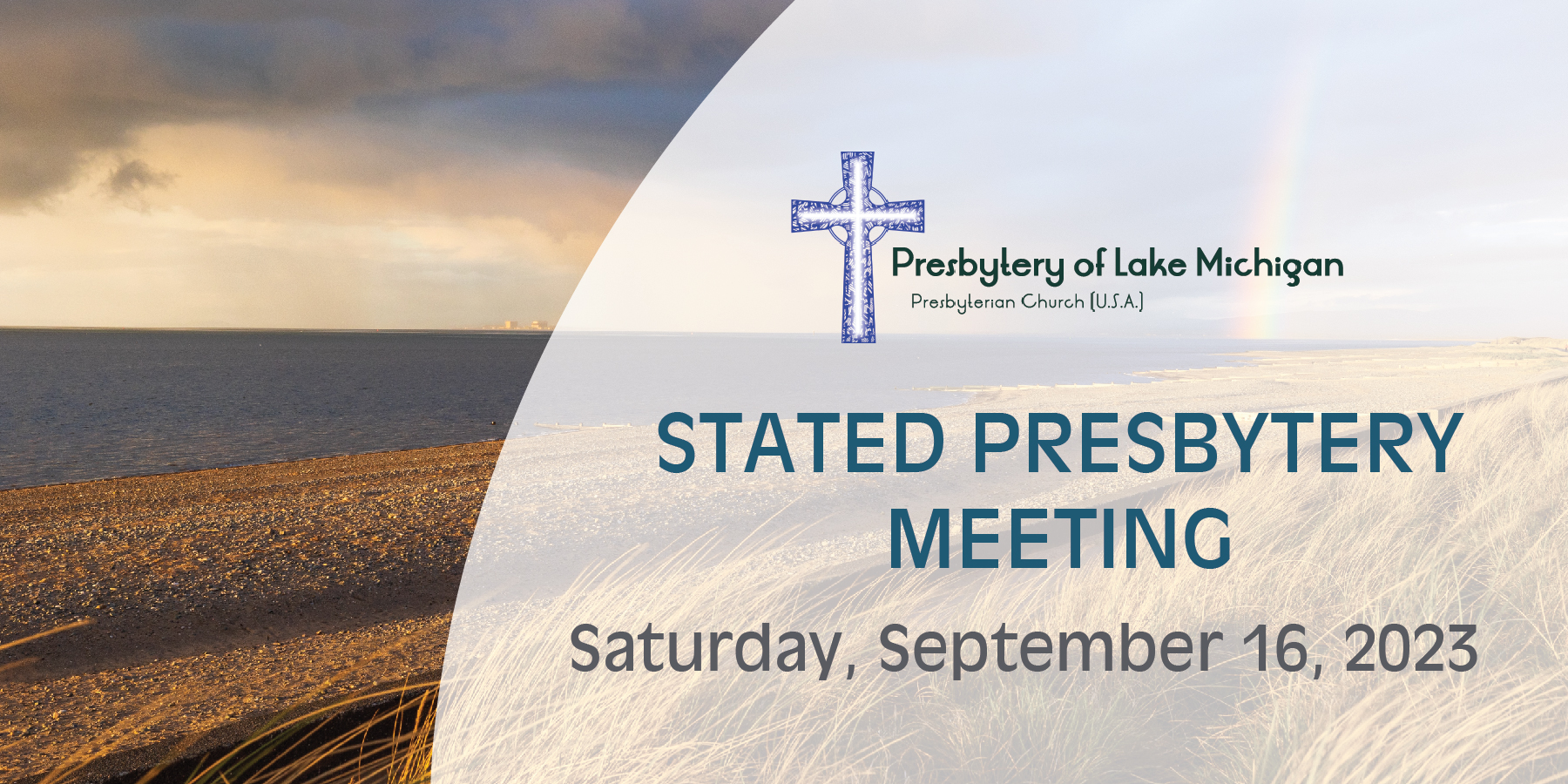 The next Stated Meeting of the Presbytery of Lake Michigan will be held at 9:30 a.m. Saturday, September 16, 2023, at The Presbyterian Church of Okemos.
The meeting theme – Lift Up Your People – will focus on the work of our congregations plus first reading of the proposed 2024 presbytery budget. There will also be a presentation and panel on gender diversity and how to have these conversations in our congregations. 
The sermon will be given by Avery Arden, an autistic, genderqueer minister residing in Atlanta with their wife and two cats (PLM Fun fact: The pastor who married them was Rev. Cathy Hoop, who is now serving at Holland First). They are a board member with the More Light Presbyterians and creator of the "Blessed Are the Binary Breakers" multifaith podcast.
After lunch, Arden and Nominating & Representation Committee members will host a panel discussion about gender diversity. The panel will feature presbytery members speaking about their experiences with gender and sexuality diversity.
Teaching elders, ruling elder commissioners, corresponding members, presenters, and staff will gather in person September 16, 2023, at 2258 Bennett Road, Okemos MI, to conduct business. Others may observe the meeting via a livestream video feed that will be available at https:lake michigan presbytery.org that day.
Some key dates to note as Stated Meeting preparations are made:
Docket requests should be submitted on or before Thursday, August 17, 2023, by clicking

here.

Requests for 30-second announcements or informational tables should be submitted by clicking

here

. Staff will reach out to the identified contact person with details about preparing the 30-second announcement or the informational table.

Advanced registration for the Stated Meeting will open on the presbytery's website by Thursday, August 17, 2023, and close Wednesday, September 6, 2023. After that, those who want to attend should send a message to

office@lakemichiganpresbytery.org

.

Printed materials to be included in the Stated Meeting packet should be submitted by Thursday, August 24, 2023, to

office@lakemichiganpresbytery.org

.

 

Materials to be included in the slide presentation should be submitted by Tuesday, August 29, 2023, to

tech@lakemichiganpresbytery.org

.

The preliminary meeting packet will be available by Saturday, September 2, 2023, on the presbytery's website. The final meeting packet will be available there by Saturday, September 9, 2023.  Click

here to access the online packet.

Orientation for new commissioners will be offered via Zoom at 9 a.m. Thursday, September 14, 2023. Participants should indicate interest in this training when completing the advanced registration form.  
Excused absence requests should be submitted via an online form. Requests not submitted via this form may not be appropriately recorded.