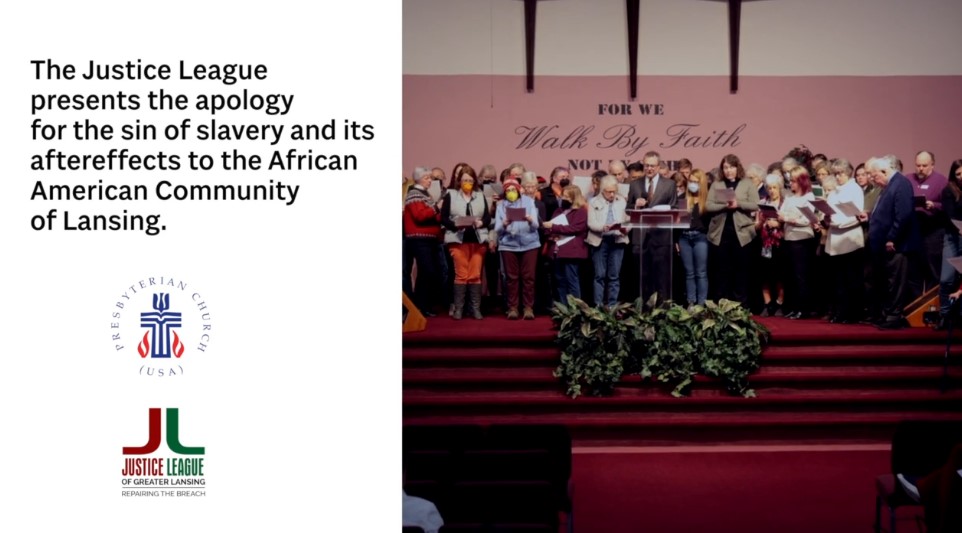 Photo from https://www.justiceleagueglm.org/
Join the Justice League of Greater Lansing Michigan on June 19 at noon for a reading of the PC(USA) Apology to the African American Community for Slavery and Its After-effects, which will take place on the steps of the Capitol. Participants are asked to gather at 11:30 a.m. Monday, June 19,  in the First Presbyterian Church parking lot at 510 West Ottawa Street, then walk together to the capitol building. 
This significant occasion coincides with the federal holiday of Juneteenth, honoring the emancipation of enslaved African Americans in 1865, and will be integrated into the official Juneteenth Celebration of the City of Lansing. The events also will include comments by state Sen. Sarah Anthony.  
Amidst the divisive rhetoric that has infiltrated our society, this event offers a chance to challenge and transcend bigotry, hatred, and exclusion in the name of Jesus Christ. By repenting, building, and repairing, we can bear witness to the transformative love and justice exemplified by Jesus. It is not only an occasion to do the right thing but also an opportunity to spread the Gospel through our words and actions.
For more information about the event, please contact Stan Jenkins at sjenkins@lansingfirstpres.org