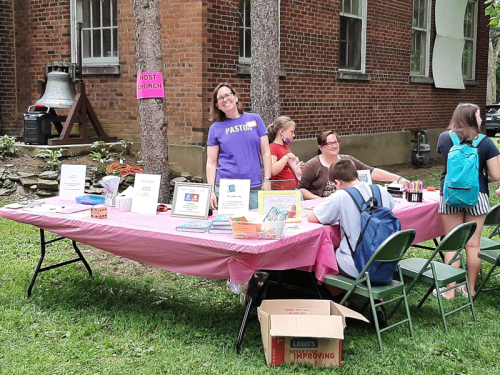 During a back to school fair, the Rev. Dr. Martha Jordan gave away 10 Children's Bibles to people in her community within an hour. (Photo by The Presbyterian Churches of West Pittston and Wyoming)
More than 200 churches and worshiping communities within the PC(USA) recently got free book bundles to share biblical stories with children whose families are less able to purchase books.
Some of the bundles were distributed during a recent "Surprise Event Saturday" held at Gather Tacoma in Washington state to attract families for some spontaneous fun.
"We have 15 children. One-third of them are multiracial," said congregation founder, the Rev. Taeler Morgan, said in a September 23, 2021 article by Paul Seebeck of the Presbyterian News Service. "It's so helpful to provide resources to our families that are inclusive and diverse, because we champion diversity as one of our primary values."
"Surprise Event Saturday" is a "nonchurch event to help us build pathways to get to know someone spiritually," Morgan said. "These books are a perfect way to provide a meaningful resource and seed future conversations with people outside of faith communities."
The book bundles with English texts included:
Book bundles with Spanish and Korean texts also have been provided to other groups across the country. Click here for more details about the titles included in those bundles.
Each book bundle highlights aspects of the PC(USA) Matthew 25 vision, which invites congregations to work at building congregational vitality, dismantling structural racism and eradicating systemic poverty.
In all, 209 English book bundles, 65 Spanish bundles and 36 Korean bundles were distributed using funds from donor endowments and a partnership among several PC(USA) offices. These bundles were distributed via congregations and worshiping communities who responded to a call seeking program participants. Click here for a July 16, 2021 article by Paul Seebeck of the Presbyterian News Service about that process.