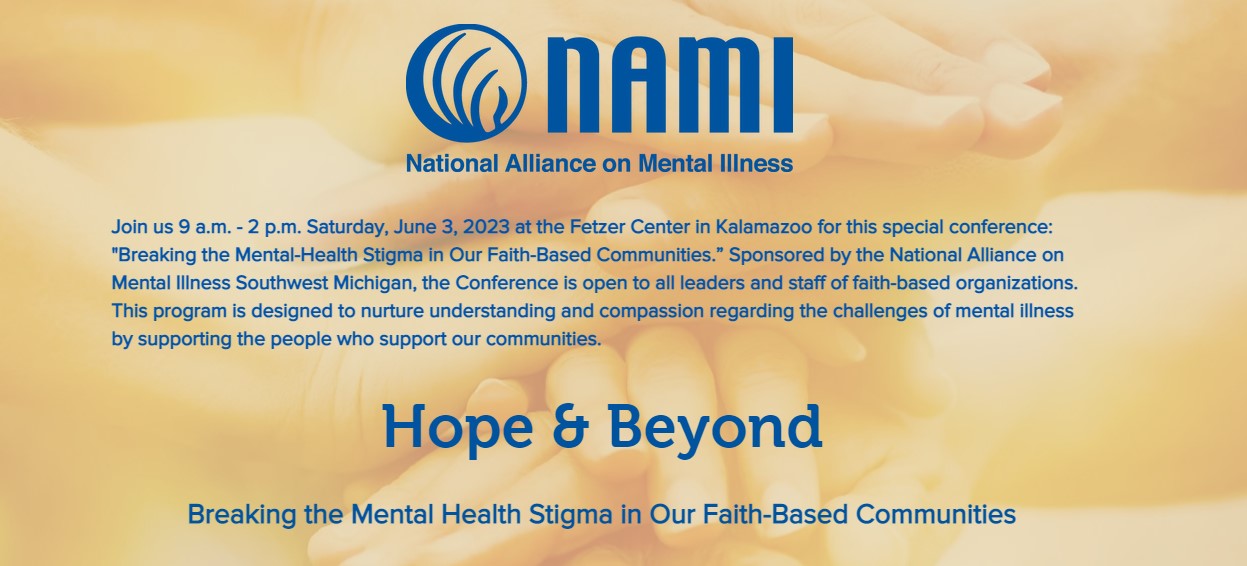 Conversations to nurture understanding and compassion regarding the challenges of mental illness are the focus of a day-long conference being hosted by the National Alliance on Mental Illness (NAMI)  Saturday, June 3, 2023 in Kalamazoo.
The event – "Hope & Beyond: Breaking the Mental-Health Stigma in Our Faith-Based Communities – will be held from 9 a.m. to 4 p.m. in the Fetzer Center at Western Michigan University.
The morning keynote speaker will be Bill Sanders. An author of 15 parenting and teen books, he will speak about "My Story of Faith and Hope: Surviving Depression and Severe Social Anxiety."
The afternoon keynote speaker will be D'Andrea Bolden, founder and director of Faith + Mental Health through which she hosts a podcast.
The $20 registration fee includes lunch, community support resource tables and breakout groups about Coping with Traumatic Events; Diversity in Mental Health, Identity and Culture; Suicide Prevention in Youth; and Family Support in Coping with Mental Illness.  
Find more details and purchase a conference ticket at www.namiswmich.org