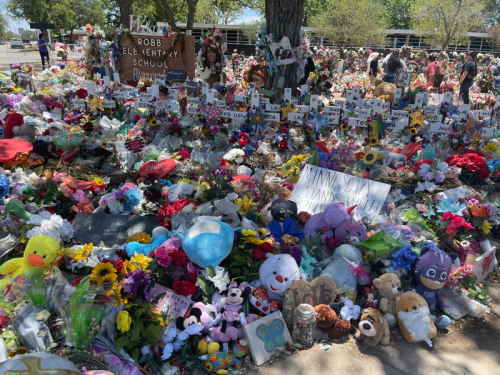 The memorial at Robb Elementary School in Uvalde, Texas. Photo from Presbyterian Mission by Laurie Palmer.
A member of the Presbytery of Lake Michigan, Rev. Katherine "Cully" Culpepper (MAL), spent time in late July ministering to the Uvalde, Texas, community as it continues to heal after a gunman killed 19 students and two teachers May 24 at an elementary school. 
Cully was part of a National Response Team for Presbyterian Disaster Assistance that met with individuals and groups to share information about the phases and patterns seen in human-caused disasters.
"We continue to hold them in our prayers, and stand ready to help them when they need us, with the hearts and hands and the shared wisdom of those who have walked this difficult journey before," Rev. Culpepper says in a July 28, 2022 article published online by Mike Ferguson of the Presbyterian News Service.
Culpepper, who was the presbytery's associate presbyter from 2011 to 2013, and the Rev. John Creek both worked with the Rev. Gini Norris-Lane, pastor of First Presbyterian Church of Uvalde and other faith leaders in the community. The week included a lunch-and-learn event hosted by PDA.
"Right now," Norris-Lane says, "our attention is focused on getting through the summer, but John and Cully shared that long-term recovery work can be an opportunity for Uvalde to reflect on the questions: 'Who have we been? Who are we now? And what kind of community do we want to be five years from now?'"
PDA is working with other Compassion, Peace & Justice ministries, including the Presbyterian Peacemaking Program, to address gun violence issues. Click here for a resource about preventing gun violence and here to learn more about the prevalence of gun violence in the United States.