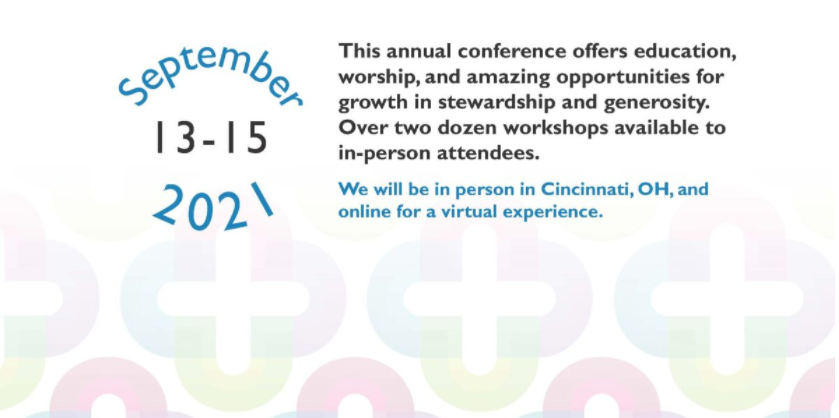 Image from https://stewardshipkaleidoscope.org/conference/
Registration is underway for the 2021 Stewardship Kaleidoscope with more than two dozen programs being offered to in-person attendees and all plenary programs, four workshops and both worship sessions being livestreamed for virtual participants.
The conference – slated from Monday, September 13, 2021, through Wednesday, September 15, 2021, in Cincinnati, OH – will feature worship led by the Rev. Dr. J. Herbert Nelson, II, Stated Clerk of the PC(USA), and the Rev. Elizabeth A. Eaton, Presiding Bishop of the Evangelical Lutheran Church in America.
Click below to find general conference information, including costs, and to register for either in-person or virtual attendance.  
Leading the plenary sessions will be:
Rev. Dr. Tod Bolsinger, associate professor of Leadership Formation at Fuller Theological Seminary in California. He will speak in two plenary sessions about the opportunity and necessity for adaptive change in the church, and how change can reflect our role as stewards in God's Kingdom.
Aimee Laramore, who currently serves as the philanthropic strategist for the first doctoral African-American Preaching and Sacred Rhetoric in the nation at Christian Theological Seminary. She will share best practices, trends and opportunities for institutional, faith-based development and strategies for creating sustainable organizations.
Rev. Dr. Brandi Casto-Water, pastor of Faith Presbyterian Church in Cape Coral, Florida. She will share her perspective on practical stewardship challenges and opportunities in the church today and help consider what needs done now to ensure a strong church tomorrow.
All four plenary sessions will be livestreamed for virtual participants, and available as recordings to all participants after the conference which provides education, worship and opportunities for growth in stewardship and generosity. Click below to learn more about the presenters.
In-person participants can select from six different workshop topics in each of four different time slots. Virtual participants can join livestream presentations about: Creating a Culture of Generosity, Planned Giving 101, Giving as a Spiritual Discipline, and Policies and Procedures for Managing Your Planned Giving Program. Click below to find descriptions of all workshops being offered.