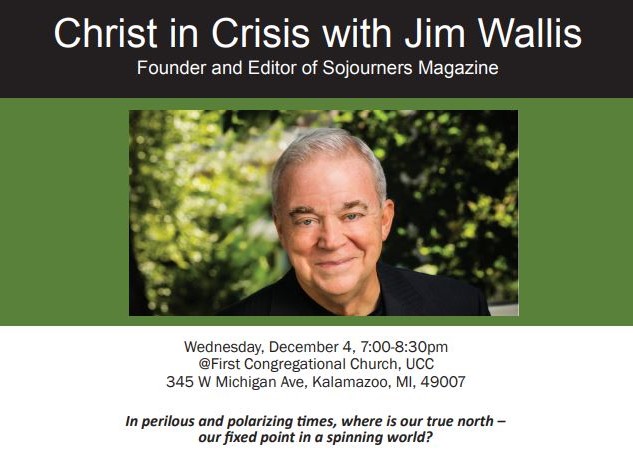 Rev. Jim Wallis, in his new book Christ in Crisis: Why We Need to Reclaim Jesus, suggests that a focus on eight questions asked by, or of, Jesus provide a solid compass for people of faith.
"Who is my neighbor?" is a question posed to Jesus by a lawyer. Pontius Pilate inquired of Jesus, "What is truth?" What is Jesus telling us when he repeatedly tells us "Be not afraid?" In exploring these and other questions, Wallis provides a path of spiritual grounding and solidarity to help us heal the divide separating Americans today.
He gives us a field-guide to determine whether we are truly aligned with the moral and spiritual foundations of our Christian faith.
While he directly addresses the dividing lines and dangers facing our nation, the focus of the religious and cultural commentator is not politics; it's faith.
Two ways to hear Rev. Wallis Speak
Wednesday, December 4 @ 7:00-8:30pm in Kalamazoo
Tickets are $10 each.
Send an email to info@TransformationsCenter.org if you need assistance with the registration fee. There is no fee for high school or college students with valid student ID.

Registration details may be found at TransformationsCenter.org
or by clicking the button below.
Tuesday, December 3 @ 7:00-9:30pm in Grand Rapids
Rev. Wallis is also slated to speak from 7 to 9:30 p.m Tuesday, December 3, in the Covenant Fine Arts Center Recital Hall at Calvin University. No admission fee.
---
This program is offered through a partnership between Transformation and the John E. Fetzer Institute whose mission is: "Helping build the spiritual foundation for a loving world."