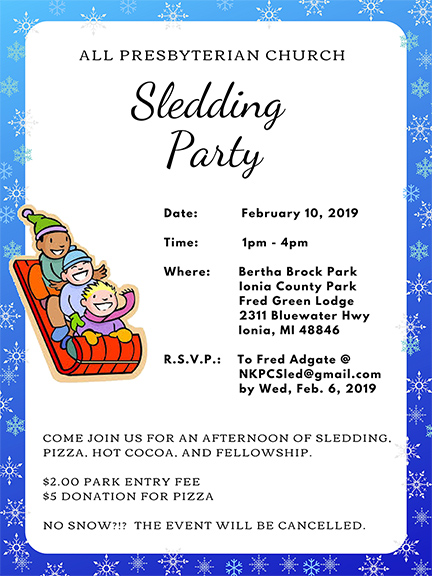 Area youth can slide into some simple winter fun Sunday, February 10, as the North Kent Presbyterian Church hosts its annual sledding party from 1 to 4 p.m. at the Bertha Brock Park in Ionia.
"It's a low budget, low maintenance event to get our youth and families out having fun together," says organizer and North Kent member Fred Adgate. Adgate, who grew up at First Presbyterian Church in Ionia, has sledded the hill most winters for more than four decades. About 5 years ago, he helped organize a party for North Kent youth on the huge hill that has no trees in sight.
"The event has been growing ever since," says Adgate. "About 40 youth and adults joined in the fun last winter. This year, we want to open the fun up to even more people."
Participants will gather at 1 p.m. in the Fred Green Lodge near the sledding hill for a pizza lunch and then hit the slope until 4 p.m.
There is a $2 charge to enter the park that is located at 2311 Bluewater Highway Ionia MI 48846 and operated by Ionia County, and a $5 donation for pizza.
Families or youth groups who want to join the fun are encouraged to send a message to fredadgate@yahoo.com so enough pizza can be ordered.
"But people can also just show up because I've got the pizza place on standby," Adgate says. "The only thing that will mess up the event is if there is no snow. Then the event will be canceled."
Take a ride down the hill

Video embeded from North Kent Presbyterian Chruches Facebook Page https://www.facebook.com/NorthKentPresbyterianChurch/